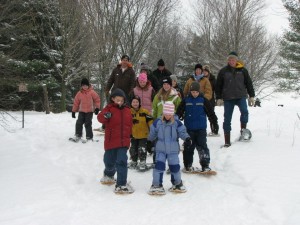 HURON COUNTY – Grab your dancing shoes and hit the dance floor in Blyth, take a seat in the stands for Hockey Night in Bayfield, or strap on the snowshoes and follow the trails through Wawanosh Nature Centre this weekend. No matter what your pick, there's plenty to keep you active indoors and outdoors in Huron County over the next few days.
Here's a sampling of events this weekend:
Friday
Lesson and Dance, Blyth
Date: Friday, Jan. 25, from 8 p.m. to 10:30 p.m.
Location: Blyth East Side Dance Studio, 273 Hamilton St.
Description: Every Friday night features a lesson in one Ballroom or Latin Dance. The lesson is taught with beginners in mind and is 45 minutes long. Stay and dance the rest of the evening. Cost is $5 per person. Feel free to drop in. No need to pre-register.
Saturday
Hockey Night in Bayfield, Bayfield
Date: Saturday, Jan. 26. Doors open at 6 p.m., opening ceremonies at 7 p.m. Game starts at 7:30 p.m.
Location: Bayfield Arena and Community Centre, 4 Jane St.
Description: Come enjoy a celebrity hockey game for the whole family. The Bull TryHards are coming to town to take on local talent. Door prizes, 50/50 draw, Chuck a Puck, Shoot to Score competition. Selling pizza, hot dogs and goodies for the kids. Silent auction, NHL players' autographed articles. Age of majority dance following the game.  Tickets: 11years and older, $10; 5 to 10 years, $2; under 5 years, free. Advance tickets available at Brandon's Pro Hardware on Clan Gregor Square or Nip 'n' Tuck Convenience on Hwy 21.
Tom Burke Live at the Bakery, Blyth
Date: Saturday, Jan. 26, starting at 8 p.m.
Location: Queen's Bakery, Queen St.
Description: Singer / songwriter Tom Burke, of Mitchell, will perform in this intimate downtown setting. He is known for performances with Mostly Sideways. (Burke replaces Lyndon John, who is ill.) Limited tickets. Call now to reserve your ticket, $10, at 226-523-9720.
Kintail School Flea Market, Kintail
Date: Saturday, Jan. 26, from 10 a.m. to 4 p.m.
Location: Hwy. 21 north of Kintail on west side of road
Description: Browse through a vast array of treasures in the unique setting of former school SS#3 Ashfield. Enjoy a taste of good country-style cooking in the kitchen.
Lee Grant, Wingham
Date: Saturday, Jan. 26, from 5:30 p.m. to 9:30 p.m.
Location: Royal Canadian Legion Branch 180, 183 Victoria St. W.
Description: Night of music. Food is available.
Sunday
Snowfest at Wawanosh Nature Centre, west of Belgrave
Date: Sunday, Jan. 27, from noon to 4 p.m.
Location: 38854 Nature Centre Rd., west of County Rd. 4, between Blyth and Belgrave.
Description: Bring your skis or snowshoes and hit the trails, Snowshoes available for all ages four and over. Rental fee: $3. Stop at the campfire or enjoy a hot chocolate in the Nature Centre. Admission is free.