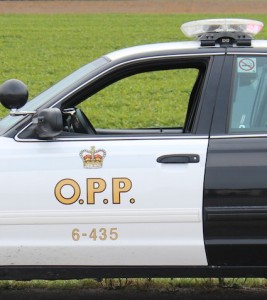 BLUEWATER – A 36-year-old woman from South Huron is charged with careless driving after a two-car collision last week.
 On Feb. 7, 2013 at 5:25 p.m. Huron OPP officers, Huron County paramedics and Hensall fire fighters arrived at the crash scene on London Road just north of Rodgerville Road to find a black Subaru Forester engulfed in flames in the north lane and a silver Toyota Sienna in the west ditch.
Both vehicles sustained significant damage.
Officers learned the Subaru was travelling south on London Road when it crossed the center line. The driver of the Toyota attempted to avoid the Subaru however both vehicles collided.
A 36-year-old female from Huron East who was a passenger in the Toyota Sienna was transported to Victoria Hospital in London with non-life threatening injuries.  The male driver, 39, was uninjured.
The driver of the Subaru, who is charged with careless driving, was uninjured.
DRIVER GETS THREE-DAY SUSPENSION
CENTRAL HURON – On Feb. 8, 2013 at approximately 8:15 p.m., Huron OPP stopped a Chevrolet Silverado that had entered a RIDE checkpoint at London Road and Londesborough Road.
Upon speaking with the male driver, officers noted he had been drinking alcohol.  A roadside test was completed and the driver registered a warn range reading.  The driver, a 69-year-old maN from Central Huron has lost his driving privileges for three days.  
SNOWMOBILE DRIVER FACING SEVERAL CHARGES
CENTRAL HURON - Police stopped and charged a 17-year-old male snowmobile driver from Central Huron with three offences on Feb. 10, 2013. A green Polaris was stopped on London Road near Vanastra Road at 1:10 p.m. Officers requested a driver's licence, ownership and proof of insurance from the owner.
A driver's licence check revealed he was a suspended driver.  Further, he was unable to provide an ownership and certificate of insurance for the snowmobile.  As a result he will have to answer the charges at a court date set for April 2, 2013 at the Ontario Youth Justice Court – Goderich.
SNOWMOBILE WINDSHIELD STOLEN
NORTH HURON - A Huron OPP officer recently received a theft report of a snowmobile windshield.
The victim reported he had his 2013 Ski-Doo XRS snowmobile parked at a restaurant located on Queen Street in Blyth.  He left his sled unattended between 8 p.m. and 9 p.m. on Feb. 7, 2013.  When he returned to his machine, he noticed the windshield had been removed from the snowmobile.  On the windshield was a 2013 OFSC trail permit.
The value of the windshield and the trail permit is approximately $350.
Anyone with information regarding this incident is asked to contact the Huron OPP at 1-888-310-1122 or (519) 524-8314.
Should you wish to remain anonymous, you may call Crime Stoppers at 1-800-222-TIPS (8477), where you may be eligible to receive a cash reward of up to $2,000.