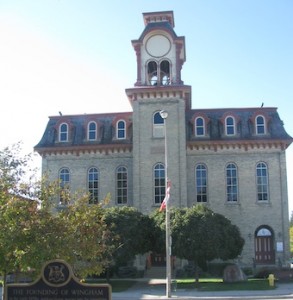 WINGHAM– The federal government is pledging up to $125,000, which will be matched by local dollars, to provide a makeover to the North Huron town hall.
The historic building on the main street of Wingham received a Community Infrastructure Improvement Fund (CIIF), Huron-Bruce MP Ben Lobb announced recently.
"I am pleased that our government is supporting communities and helping to contribute to the local economies by creating jobs and stimulating the local economy," Lobb said. "This investment is important to residents in North Huron and will help deliver community services for the people in this region."
The funds will be matched by the Municipality of North Huron in order to complement downtown revitalization, said Neil Vincent, who is the reeve of North Huron.
"We are fortunate to have such a wonderful historical building to operate and as custodians of this building we are delighted to be providing a much needed face lift.  This will extend the life of the building for future generations," Vincent said.
The project will involve window replacement, masonry repairs, door repairs, exterior painting, and carpentry work if needed.  The project will be completed during the 2013 construction season.
The Wingham Town hall was built in 1890. A second-floor theatre opened a year later in 1891.
CIIF supports communities and creates jobs through repairs and improvements to existing community facilities over the next two years.