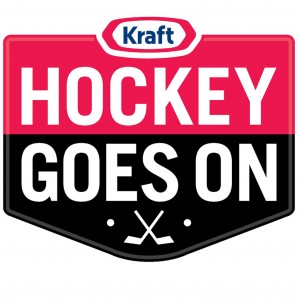 GODERICH – Goderich's Dirk Wolterbeek is now in the top 100 volunteers competing for a final $100,000 prize in the Kraft Hockey Goes On competition.
Finalists from across the country were announced this weekend, with two days of on-line voting slated to begin March 23.
"He was pleased as punch," organizer Steve Hewitt said this morning. The Goderich Minor Hockey Association held a pep rally on Saturday night, which was attended by Wolterbeek's family. "He was just glowing."
The top five volunteers will be announced April 3 and their local hockey association will be awarded $100,000, while an additional 20 volunteers will be recognized and their local hockey association will receive $20,000, and Hockey Canada will be provided $100,000 to distribute to Learn to Skate programs at the local level.
Saturday's pep rally raised $2,000 for spina bifida, a cause close to Dirk Wolterbeek, whose daughter's is affected by the birth defect in which either the brain and spine or only the spine fails to develop properly in the womb.
The local committee has begun rallying the community so that when on-line voting begins March 23, people in Goderich and area will be ready with their votes.
For more information, contact Steve Hewitt at sahewitt@cabletv.on.ca or Doug Cruickshank at cruickdo@gmail.com