GODERICH – A fire drill at the Goderich hospital went off without a hitch recent.
Alexandra Marine and General Hospital partnered with the Goderich Fire Department to test Code Red (fire) and Code Green (evacuation) on March 5.
In the drill, a Code Red was initiated at 7:45 p.m. due to a fire that started by a patient smoking in bed, which activated a smoke alarm in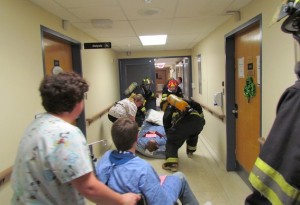 Room 253. Switchboard staff observed the alarm and announced the location of the fire on the overhead public announcement system. There were three actors who played the roles of patients placed in areas that would require evacuation, one in Room 253 and two in Room 256.
The AMGH fire brigade arrived at the scene in quickly, accompanied by nursing staff on the floor. Nursing staff were quick to respond and evacuate the patients to the west wing beyond the fire doors.  The fire department responded in full gear within less than 12 minutes.  After assessing the situation and seeing the fire, the fire department notified the Hospital that vertical evacuation of the area was required. At this time, an evacuation (code green) was implemented.  The fire department, with help from the staff, evacuated the patients down the stairway on the west wing. After evacuation of the patients, the dire department contained the fire and did a sweep of the building to ensure no other danger.
Story and photos submitted by AMGH staff