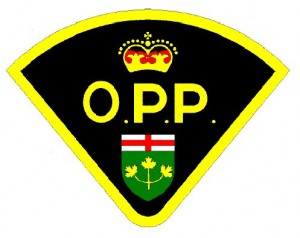 ASHFIELD-COLBORNE-WAWANOSH – Two snowmobilers were sent to hospital after crashing into a tree south of Lucknow late Saturday night, Huron County OPP report.
Just after 11:30 p.m. Huron OPP officers, Lucknow Fire Department and Huron County paramedics were dispatched to a single snowmobile collision involving two injured people.
Emergency personnel found the injured pair near a snowmobile trail north of Hawkins Road and west of Lucknow Line. Preliminary investigation revealed a Polaris snowmobile left the trail and crashed into a tree.
The driver, Johnathan Caldwell, 23, of Goderich, was transported by air ambulance to London Health Sciences Centre in London with non-life threatening injuries. He remains in hospital this afternoon, listed in fair condition, which means his vital signs are stable and he is conscious, although he may uncomfortable.
The passenger, Terry Riddiough, 29, from R.R.7 Lucknow was transported to Alexandra & Marine General Hospital with non-life threatening injuries.
SPEEDER'S VEHICLE IMPOUNDED
ASHFIELD-COLBORNE-WAWANOSH – On March 10, 2013 at approximately 6:35 p.m., a Huron County OPP officer conducting RADAR patrol on Amberley Road near Donnybrook Line observed a grey Oldsmobile sedan speeding along at a high rate of speed.
The officer locked the vehicle speed at 147 km/h in a posted 80 km/h zone.
A 23-year-old man from Waterloo has been charged with racing a motor vehicle as a result of speeding at least 50 km/h over the limit. He has a court appearance scheduled for Provincial Offences Act Court - Goderich on May 7, 2013.  His driver's licence has been suspended for seven days and the vehicle was impounded for seven days.
DRIVER CHARGED WITH POSSESSION OF DRUGS
HURON EAST – A RIDE program located on Turnberry Street at Raymond Court in Brussels yielded a criminal charge on Saturday night.
Just before 9 p.m. a green Chevrolet Blazer entered the RIDE checkpoint.  The driver produced a quantity of an illegal drug when was questioned by the officer at the checkpoint.
A South Huron man, 46, has been charged with possession of a controlled substance.  He is scheduled to appear at Ontario Court of Justice – Goderich on April 22, 2013.
VANDAL DAMAGES CRUISER
BLUEWATER - A Huron OPP cruiser was the target of a mischief this past weekend.
While OPP officers were completing foot patrols inside the Hensall arena somebody was outside tearing both antennas off the rear of the cruiser.  This crime took place between 12:30 a.m. and 1:45 a.m. on March 9.
No witnesses have come forward to assist police in the investigation.
CHEVY PICKUP STOLEN
HURON EAST - Huron County OPP officers are investigating the theft of a blue 2001 Chevrolet S10 pickup truck stolen from Winnipeg Road in Vanastra.
The owner reported his truck was stolen from his laneway sometime between 8:30 p.m. on March 9, 2013 and 9:30 a.m. on March 10, 2013.   Inscribed in the back window is " I love my mommy" with a picture of a heart.
The truck was unlocked and the keys were left in the ignition.
BREAK & ENTER TO SHED
BLUEWATER - Huron OPP officers are investigating a break, enter and theft to a small garden shed located on Richmond Street North in Bluewater.  The suspect entered through an insecure window and left with a chainsaw and a ratchet set.
The chainsaw is an orange and white Stihl model MS230 with an orange case valued at $425.  The ratchet set is valued at $100.
Police believe this crime took place between 7 p.m. on March 7, 2013 and 6:45 a.m. on March 8, 2013.
Anyone with information regarding these incidents is asked to contact the Huron OPP at 1-888-310-1122 or (519) 524-8314.
Should you wish to remain anonymous, you may call Crime Stoppers at 1-800-222-TIPS (8477), where you may be eligible to receive a cash reward of up to $2,000.