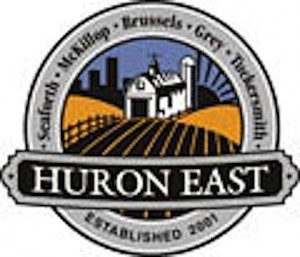 HEATHER BOA Bullet News BRUSSELS – About 20 workers from a door manufacturing company south of Brussels that went into receivership after a fire Jan. 23 considered their options today, during an information session hosted by the Municipality of Huron East.
They represented a total workforce of 100 employed when a fire destroyed MDL Doors' 60,000-square-foot facility and warehouse. Two weeks later, Feb. 8, the courts appointed Deloitte & Touche Inc. as receiver to settle $1.3 million in assets and $6.8 million debt, including an unsecured debt of $548,000 owed to employees in wages and severance obligations. For the past 29 years, MDL Doors has manufactured pre-hung steel and fiberglass doors.
A new mom rocked her baby and handed him to former co-workers while others sat in rows along two tables while representatives from Service Canada and Employment Ontario, including Conestoga College and the Centres for Employment and Learning, outlined the process to collect Employment Insurance and retrain for the future. The employees asked few questions through the 1.15-hour presentation, saving most for private discussions afterward. Laughter rippled through the room when the Services Canada official outlined the benefits of checking information online rather than phoning into the call centre. She asked if anyone had tried to contact the call centre recently. "It was a fun two days," quipped one worker. "They kept hanging up on me," said another.
The mayor of Huron East, Bernie MacLellan, says the municipality hosted the meeting to assist local people affected by the closure.
"Any time we can assist them, we're going to take the opportunity," he said. "It's a lot easier for us to bring the service groups to the employees and have them all in one location rather than have 100 employees all making the same phone call."
His municipality has been hit especially hard as a result of the closures of MDL Doors and the Seaforth Creamery, which employs 180 people and is slated to close by the end of September 2013.
He says Huron County has also taken some hard hits, especially in the manufacturing industry.
"If you look at Huron County as a whole, I'm going to say over the course of the last approximately five years, we've lost about 2,500 jobs from major employers shutting down," he said.
Despite the losses, workers heard today the unemployment rate in the four-week period ending tomorrow is 5.4 per cent in Huron and Perth counties, compared to 9.8 per cent in Niagara and 30.9 per cent in Northern Manitoba.
"I think that's good, but I think that has to do with the actual area that we're in. We do have a lot of small businesses and they do seem to be doing very well. It doesn't take a lot of small businesses when each of them hire one or two employees to start to gobble up those people who have been let go from major industry," he said.
The information session for MDL Doors employees was held at the new Brussels Business and Cultural Centre, a 17,000-square-foot former school the municipality has transformed into an incubator for small business. The vision is for a cluster of businesses to locate in former classrooms, and perhaps share resources like reception, conference or meeting rooms.
A presentation from Deloitte and Touche Inc. to MDL Doors employees is scheduled for March 18.
Click here to read the Superior Court of Justice court order issued Feb. 8 and the Notice and Statement of Receiver dated Feb. 14.