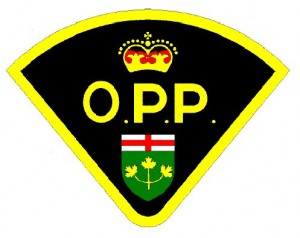 SOUTH HURON – Huron OPP officers are investigating an early morning break, enter and theft that occurred at Country Corners Rent-All located on Main Street South in Exeter.
On Feb. 24, 2013 at approximately 6:15 a.m. thieves pried open a south entry door and left with several snowmobile jackets and pants.
Approximately 20 racing style jackets and four pairs of black snowmobile pants were stolen.  The jacket brand names are Drift Racing, Castle and Arctic Cat.  The total value of the stolen property and damage to the door is estimated at approximately $7,000.
Police believe the suspect vehicle is similar to a GMC Envoy.
Anyone with information is asked to contact the Huron OPP at 1-888-310-1122 or (519) 524-8314.
Should you wish to remain anonymous, you may call Crime Stoppers at 1-800-222-TIPS, where you may be eligible to receive a cash reward of up to $2,000.
STICK TO THE TRAIL
HURON COUNTY - On Feb. 25, 2013 Huron OPP officers attended a farm property located on Saratoga Line to investigate a trespassing complaint.  The property owner reported snowmobilers have been driving off the clearly marked Ontario Federation of Snowmobile Clubs (OFSC) trail onto his private property.  The trespassing snowmobilers caused damage to some newly planted trees along the fence line.
Every winter, Huron OPP receives complaints from property owners who report damage caused by snowmobiles and all-terrain vehicles that venture onto private property.  Huron OPP would like to remind operators to stay on the trail base.  Snowmobilers are urged to use the OFSC trail system for a safe and enjoyable riding experience.  These trails form an extensive Ontario wide network of trails, which are groomed, signed and patrolled.
Snowmobilers must not operate on private property without a property owner's permission. Violators may be subject to a fine up to $2,000 for trespassing.
SNOWMOBILER RECEIVES WARN RANGE SUSPENSION
CENTRAL HURON – A 46-year-old man from Huron East received a three-day driver's licence suspension after registering a warn reading on a roadside breath test last Saturday night.  At approximately 11:40 p.m., a Huron OPP officer stopped the driver of a Polaris snowmobile on Huron Street in Clinton.
The officer noted the driver had been drinking alcohol and a roadside test was administered.  The driver provided a breath sample, which registered as a warn range suspension.
Drivers of snowmobiles and all-terrain vehicles are subject to the same drinking and driving laws and penalties as all other drivers of motor vehicles.