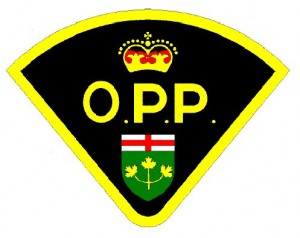 CENTRAL HURON - A RIDE checkpoint set up at Base Line and Blyth Road in Auburn resulted in a 34-year-old male driver losing his driving privileges for 90 days recently.
On Feb. 16, 2013 at 7:28 p.m. a black Mazda Protegé entered the RIDE program whereupon Huron OPP officers spoke with the driver.  Upon speaking with the male driver officers detected the driver had been drinking alcohol.  A roadside breath test was completed and the driver registered a fail.  He was transported to the Exeter OPP detachment where he provided two samples of his breath to a qualified intoxilizer technician.  Both samples were over the legal limit.
As a result, the London man has been charged with driving a motor vehicle with over 80 mg of alcohol.  He has a court appearance scheduled for April 15, 2013 at the Ontario Court of Justice - Goderich.  He received an automatic 90-day driver's licence suspension.  In addition, his motor vehicle has been impounded for seven days.
SPEEDER FACING DRUG POSSESSION CHARGES
ASHFIELD-COLBORNE-WAWANOSH – A 35-year-old male is facing drug possession charges following a traffic stop on Feb. 17, 2013.  Around 1:40 a.m. a red Ford F-150 was stopped for speeding on St. Helen's Line.  Upon speaking with the driver officers detected the odour of an illegal drug coming from inside the vehicle.
Further investigation revealed the driver to be in possession of illegal drugs.  A search of the vehicle was completed and officers seized a small quantity of illegal drugs located inside the vehicle.
As a result, the Lucknow man has been charged with three counts of possession of a controlled substance.
He has a court date scheduled for the Ontario Court of Justice - Goderich on April 15, 2013.
HURON OPP SNOWMOBILE PATROLS CONTINUE
HURON COUNTY – The Huron County OPP snowmobile patrol unit was out patrolling the trails in Huron County this past weekend on Saturday, Feb. 17 between 4 p.m. and midnight.  Officers patrolled approximately 200 kilometres of trails throughout the county.  Officers patrolled from the Huron OPP detachment to Brussels, Wingham and back to Goderich.  During these patrols, officers stopped 20 snowmobiles.  Officers charged two operators for failing to have a valid 2013 Ontario Federation of Snowmobile Club Trail Permit and one driver was charged with failing to have a valid insurance card.
STOP SIGN DAMAGED
GODERICH - Huron OPP officers are investigating a fail to remain collision that damaged a stop sign located at the intersection of John Street and Suncoast Drive West.  Officers responded on Feb. 15, 2013 at approximately 12:47 p.m. Witnesses reported a maroon Cadillac sports utility vehicle slid off the roadway and struck a stop sign.  Two female occupants in the vehicle exited the vehicle, picked up some vehicle debris from the collision and took off traveling northbound on John Street.  The driver failed to report the collision as required by law under the Highway Traffic Act.
Anyone with information regarding this incident is asked to contact the Huron OPP at 1-888-310-1122 or (519) 524-8314.
Should you wish to remain anonymous, you may call Crime Stoppers at 1-800-222-TIPS (8477), where you may be eligible to receive a cash reward of up to $2,000.