HEATHER BOA Bullet News GODERICH – If you're looking for Dirk Wolterbeek Sr. on a winter's day, chances are you'll find him at a Goderich ice pad.
It's been "a hundred years" since he and his new bride, Mary, travelled to Toronto back in the early '70s while he tried out for the Nashville Dixie Flyers, a professional minor league hockey team, but the lure of the rink and the game remains. For the past 29 years, he and Mary have served meals during Young Canada Week and run the canteen at the Goderich Memorial Arena. He has coached his son, his grandchildren and countless other kids in town.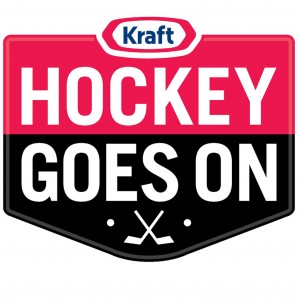 That's why a committee from the Goderich Minor Hockey Association plans to nominate him for Kraft's Hockey Goes On program to recognize volunteers in the hockey community. The program awards $1 million in prizes and donations to Hockey Canada affiliated minor hockey associations across the country.
"We've gone through many different names throughout the history of Goderich and we felt that Dirk Sr. was right for us to nominate and go forward with," said Steve Hewitt, who is spokesperson for the committee. "We just felt that Dirk came with the most and he's a very humble guy, and he's got a lot of humility."
"We picked Dirk because of his volunteerism over the years, not only playing hockey in Goderich, he grew up in Goderich his whole life, he pretty much lived at the rink, from a rink rat to coaching, to coaching grandkids," he said.
Hockey Goes On replaces Kraft Hockeyville, a competition in which Goderich was edged out by Stirling-Rawdon for the top spot in the Ontario region in 2012.
"Through our many years of involvement in community hockey, we realize there are countless unrecognized hockey volunteers and it's because of them that our favourite sport goes on," said Jack Hewitt, who is vice-president of marketing insight & services, Kraft Canada. "There are over four million volunteers who dedicate themselves to ensure the game is played from coast to coast. This year, we're celebrating these heroes of the game."
Kraft Hockey Goes Onrecognizes the top five volunteers and awards his or her local hockey association with $100,000, recognizes an additional 20 volunteers and awards his or her local hockey association with $20,000, and provides $100,000 to Hockey Canada to distribute to Learn to Skate programs at the local level.
Communities can nominate local hockey volunteers by going online from January 21, 2013 until March 8, 2013 and describing their volunteer in 250 characters minimum and 2,000 characters maximum. A panel will determine the top 100 individuals. Canadians can vote for their local hockey volunteer starting March 23, 2013, for two days. The top five winning communities will be announced March 30, 2013.
The committee is putting together Wolterbeek's nomination, and will soon begig efforts to rally the community so that when on-line voting begins March 23, people in Goderich and area will be ready with their votes.
"Our job as a committee is going to be getting Dirk out to the schools, getting Dirk out to the community hockey games, dropping pucks, charity games to get the community going 'oh, we're at it again. And we need you to vote for two days'," Hewitt said.
"We're working on the assumption that he makes it to the top 100," he said.
Hewitt said it will up to the community to decide how the winnings will be spent, but he pointed out that the ice bill for minor hockey for one year is $100,000.
Anyone who wants to volunteer on the committee is invited to contact the communications team members, either Steve Hewitt at sahewitt@cabletv.on.ca or Doug Cruickshank at cruickdo@gmail.com