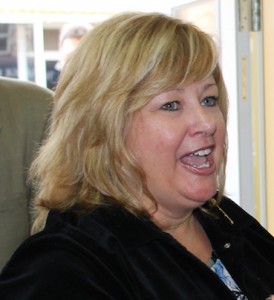 HEATHER BOA Bullet News HURON COUNTY – Huron County's member of provincial Parliament isn't convinced incoming premier Kathleen Wynne is up for the task of running a government that will focus on jobs and the economy and be accountable to the people.
"I'm just concerned it's going to be much the same," said Lisa Thompson, Huron-Bruce MPP, after hearing a victory speech that promised to build on nine years of work done by outgoing Liberal premier Dalton McGuinty.
"That legacy is about gas plant scandals. It's about taking away the decision-making process in rural Ontario through the Green Energy Act and having everything imposed on them in that regard," she said. "At the end of the day, we need a province that is focused on generating and running on all cylinders."
Wynne was elected leader of the Ontario Liberal Party Jan. 27 during a leadership convention at the former Maple Leaf Gardens in Toronto this past weekend, after McGuinty prorogued the legislature Oct. 15 when he announced his resignation.
Thompson said she's ready to go back to the legislature and demand answers from the Liberal government.
"It's time to hold this government accountable in the forum that we have, which is the house. It's been 127 days and it's time we get back to business," she said. She said the focus of her PC Party will be to get to the bottom of the gas plant closures in Oakville and Mississauga, a move the Liberals estimated to cost at least $230 million.
She said Wynne was also in cabinet for the ORNGE air ambulance scandal, botched teacher contract negotiations, the cancellation of Slots at Raceways program, and wind energy development and the Green Energy Act "and had many opportunities to stand up and make a difference at various junctures."
Thompson will also watch to see how the MPP for the urban riding of Don Valley West reconciles the needs of her constituents with the job of premier.
"I look forward to seeing how she marries the true priorities of her constituents with anything she takes on. She's MPP first in an urban riding and over and above that she's got her premiership responsibilities. It will be interesting how she marries experience and priorities all together," she said.
It's expected the legislature will reopen Feb. 19.