HEATHER BOA Bullet News CENTRAL HURON – Volunteer firefighters from North Huron will continue to battle fires for its neighbours in Auburn and the surrounding area, now that Central Huron's council has agreed to sign a one-year service agreement at a cost of nearly $104,000.
Council voted in favour of the municipal fire protection agreement for service at the north end of its municipality at a special meeting last night. It made sure provisions were in agreement requiring the North Huron fire chief to report on monthly occurrences and provide an annual summation, as well as quarterly financial reports.
Although the last agreement expired Dec. 31, it remains in place until this new agreement is executed by both municipalities.
North Huron is pitching for a 10-year agreement beginning Jan. 1, 2014, which would hold the cost to Central Huron at nearly $104,000 for the first five years, then drop to $94,000 plus consumer price indexing for the next five years. In a letter to council dated Dec. 3, Gary Long, who is North Huron's CAO / clerk, said the municipality is almost finished a plan to rebuild its fire department to meet current standards.
"Our budget projections show savings beginning in 2015 as a result of reduced operating and capital expenditures as we move from a rebuild to a maintenance phase," he said.
Last week, North Huron and the Municipality of Morris-Turnberry met at the Belgrave Community Centre to discuss the future of fire fighting in the two municipalities, while volunteer firefighters and other interested residents filled seats in the gallery.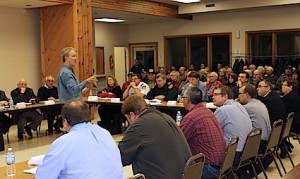 Paul Gowing, who is the mayor of Morris-Turnberry, said the meeting was the upshot of his request to present two options for fire service at North Huron's Dec. 3 meeting, which was denied. Instead he was asked to wait until North Huron has completed negotiating with other municipalities that receive contract services from its fire department.
Morris-Turnberry has created two options for fire protection service: a joint fire service with equal ownership between the two municipalities or a fire service agreement that doesn't require its contribution to capital and reserve costs. It took this plan to its Dec. 4 council meeting, opening discussion with the public.
North Huron initiated plans for a joint council meeting facilitated by Wayne Caldwell, a former Huron County planner and director of the University of Guelph's school of environmental design and rural development, to discussion fire protection.
"We didn't think we needed a facilitator. We think we have a very strong proposal and we've had good discussion, at least among ourselves, but this is working very well," Gowing said, after the meeting.
During discussion, councillors were asked to brainstorm on a number of ideas, including things they wanted in a fire protection agreement, and advantages and disadvantages of the two options. The meeting was meant to open dialogue, with no decision that evening.
To read the full presentation, click fire service presentation by Wayne Caldwell.
The next meeting will be held Wednesday, Jan. 23 at 7 p.m. at the Belgrave Community Centre.