HEATHER BOA Bullet News HURON COUNTY – Nearly 1,000 contract and occasional elementary school teachers across Huron and Perth counties are walking the sidewalks out front of schools, MPP constituency offices and the board office this morning, in protest of McGuinty government's Bill 115.
In the first day of rotating strikes across the province, union members in the Avon Maitland Elementary Teachers Federation are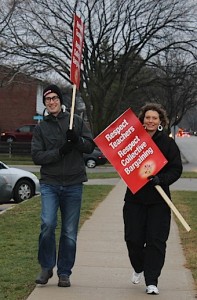 picketing at six Grade 6 to 12 schools, Huron Bruce MPP Lisa Thompson's Blyth office, Perth Wellington MPP Randy Pettapiece's Stratford office and the Avon Maitland District School Board's office in Seaforth.
Out front of GDCI in Goderich this morning, about two dozen teachers carried red placards that read Respect Teachers; Respect Collective Bargaining. Some secondary school teachers came out to show support, and a grandfather of a Kindergarten child dropped off eight Tim Horton coffees, explaining that his grandson was worried teachers would be cold.
Merlin Leis, who is president of the Avon Maitland Teachers Federation, said the mood at a school in Stratford was "upbeat and friendly," with a group of students joining teachers on the picket line.
"We've been getting lots of messages of support province-wide. Avon Maitland is a little bit off the beaten path, but this certainly has drawn attention to us," he said, in an interview while travelling with ETFO president Sam Hammond.
Avon Maitland public elementary teachers have been in a legal strike position since Dec. 1. Union members began a work-to-rule campaign on Dec. 3.
Leis said it may have been just luck of the draw that Avon Maitland was chosen as the first site for rotating strikes, but said, "We're proud and happy to be leading the way. Avon Maitland teachers are very professional, hard-working and when they're asked to do something like this, which is very important to them, they're happy to do it and they're very supportive."
On Thursday, Premier Dalton McGuinty saad his government won't put a stop to any legal, one-day teacher strikes – a position that has Ontario's Progressive Conservatives claiming the government has lost control of the situation.
Bill 115: Putting Students First Act gives time for local bargaining to continue until Dec. 31, to allow school boards and local unions to conclude local collective agreements.
Bill 115 was passed with the help of opposition leader Tim Hudak's Progressive Conservatives, who stood with the government members despite claiming the legislation as not going far enough.
Leis said the board and teachers' union won't be back to the bargaining table unless the province changes its legislation.
He said as the public becomes more educated about the issues, it is supportive of the teachers' position.
"They should be concerned. Teachers came to school in September faced with the prospect of having the terms and conditions of their employment unilaterally and arbitrarily altered by the government. And that is concerning in a democratic society where past practice has been that you roll over the collective agreement until a new one can be negotiated," he said.
He said the issue is not wages, but rather about the principle of how the province has handled contracts.
"Our members have been upset by it. They've been very supportive of the actions that we're taking and they're willing to put their money where their mouth is, take a stand and withdraw their services for a day to send a message to the government that they need to get back to the bargaining table, they need to get serious, and they need to repeal Bill 115," he said.
When classes resume tomorrow, he said teachers will continue to teach the curriculum, although some other services will be curtailed.