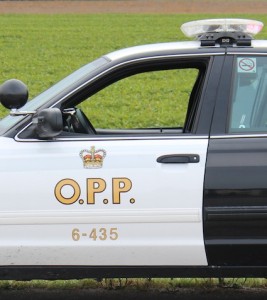 MORRIS-TURNBERRY – A 31-year-old man from Teeswater faces eight charges after an early morning police chase today.
Just after 8 a.m. this morning a Huron OPP officer saw a red Chevrolet Optra speeding westbound on Howick-Turnberry Road.  The officer attempted to stop the speeder, however the driver failed to stop for police.  The vehicle continued speeding southbound on Keiffer Lane, failing to stop at two stop signs.
In the interest of public safety, police called off the chase.  However, the vehicle was later stopped on Harriston Road at Brussels Line.
The Teeswater man has been charged with fleeing from a police officer, dangerous driving, breach of probation, speeding, two counts of driving while disqualified and two counts of driving while suspended.
He is currently held in custody and has a scheduled court appearance set for Nov. 14, 2012 at the Ontario Court of Justice – Goderich.