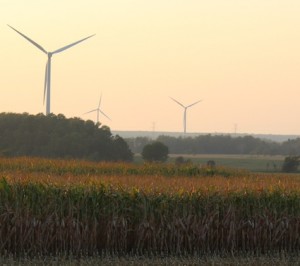 Bullet News QUEEN'S PARK — Four motions to put a halt to wind energy development across the province that were introduced by Huron-Bruce MPP Lisa Thompson are wiped of the slate with the proroguing of the Ontario Legislature.
On the first day of fall session of the Ontario Legislature, she tabled motions to suspend wind energy development in the province until a federal health study that's currently under way is complete and the results are published, and Ontario-based economic viability, environmental impact, and social health studies are complete.
"I tabled these four motions to stand up for rural Ontarians who are concerned about the impacts of wind turbines on the health of their communities," Thompson said.
Oct. 16, Ontario Premier Dalton McGuinty stepped down as leader of the Liberal party and asked Lieut.-Gov. David Onley to prorogue the Ontario Legislature, saying it would give the government time to work two strategies: negotiate wage freeze agreements with labour and meet with Opposition to put in place legislation for a wage freeze.
As a result of proroguing, all bills and motions are erased from the order paper. Thompson said other private members' bills related to issues such as harness racing industry and municipal referendums to develop gambling facilities were also killed by the move to shut the legislature until a new Liberal leader is selected.
"These are important issues, and we cannot afford to shut the Legislature doors so the Liberal members can campaign for Leader," she said.
In December 2011, Thompson tabled a private members motion calling for a moratorium on wind energy development until third-party social, physical and economic health, and environmental studies have been completed. Her motion was defeated in March 2012.