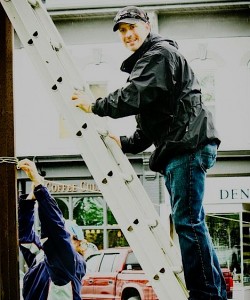 Bullet News HAMILTON – When Hamilton Tiger-Cats take on Calgary Stampeders at the Ivor Wynne Stadium tonight, a Huron County game changer will be in the crowd.
Huron County OPP Const. Patrick Armstrong, founder of the Dave Mounsey Memorial Fund, will be honoured in front of fans as a Scotiabank Game Changer with a $1,000 donation to the fund.
The fund was created in memory of his fellow Huron County OPP officer and close friend who died in the line of duty. It promotes the education and use of life-saving defibrillators, donating them to churches, schools, fire halls and legions in the name of fallen EMS, firefighters, police officers or military men and women. Most recently, it donated its 18th debrillator to the Central Huron Fire Hall in honour of fire fighter Doug Cantelon, who died while responding to a grass fire in 1999.
The Scotiabank Game Changers program will recognize local heroes across the country and award them with $1,000 for the registered charity or non-profit cause of their choice in celebration of every CFL game. At the end of the regular season, eight Scotiabank National Game Changer Finalists will be selected from the 72 Regional Game Changers and provided a VIP trip to the 100th Grey Cup in Toronto. Of those eight finalists, one will be selected as the National Scotiabank Game Changer and will receive a $100,000 donation to the registered charity or registered non-profit organization of their choice to be presented at the Toronto match on Nov. 25, 2012.
"It recognizes the commitment and passion of everyday people doing extraordinary things that make a positive impact in their community. Scotiabank knows CFL fans across the country are passionate about the game and their teams, and we are excited to give them an opportunity to celebrate Game Changers in their community as they cheer on the game changers on the field," said Anatol von Hahn, who is group head of Canadian banking.
"Scotiabank Game Changers honours community heroes as they 'change the game' in their local communities," said Anatol von Hahn, Group Head, Canadian Banking.
Scotiabank Game Changers demonstrate leadership and community involvement within one of the six Scotiabank bright future philanthropic pillars: health, education, social services, arts, Sports and environment. Judging criteria for Game Changer selection was based on leadership, challenge and impact.
To vote for Armstrong, please visit online. Just one vote per email address per day.