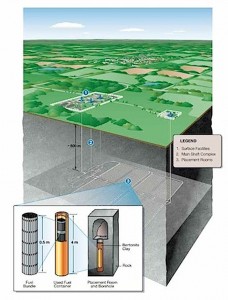 HEATHER BOA Bullet News CLINTON – There are no red flags to exclude Central Huron as a possible location for long-term underground storage of the country's high-level nuclear from spent fuel cells, according to an initial screening review.
A desktop review of readily available information available from resources like the Ontario Oil, Gas and Salt Resources Library, provincial ministries of the environment, natural resources and culture and information from the low- and medium-level nuclear waste repository licensed by Ontario Power Generation (OPG) at the Bruce Power site (its Environmental Assessment and Preliminary Safety Report is currently in public comment period) were used to determine whether there were showstoppers that would make the community unsuitable for a deep geological repository, said Bob Leech, a geologist from AECOM, a consulting firm hired by Nuclear Waste Management Organization. He delivered his findings to Central Huron Council during a meeting held at the Central Huron Community Complex to accommodate local residents who wanted to hear the presentation.  Public meetings are scheduled for March 26 and 27.
The review considered five high-level criterion within the municipality's boundaries: sufficient land to host the facility, land that's outside of protected areas, such as heritage sites; land that doesn't contain known groundwater resources used for drinking, agriculture or industrial uses; land that doesn't contain natural resources; and land that doesn't have geological or hydrogeological features that would make development of a facility unsafe.
Leech said it's a "layer cake geology" of about 32 layers in this eastern flank of the Michigan Basin, with the Precambrian Canadian Shield at its base. More than 1,000 water wells, spent oil and gas pools now used to store natural gas, sand and gravel pits, and fingers of salt that extend inland from Lake Huron all occur in rock layers above the 450-million-year-old shale, dolostone and limestone layers where the underground storage facility will be built. The facility, with shafts and buildings, will require about 100 hectares – or nearly 250 acres – of surface land, with the large caverns built at least 500 metres below ground would require anywhere from 1.5 to 2.5 square kilometres of rock.
Mahrez Ben Belfadhel, who is the director of NWMO's APM Geoscience, said abandoned mines and areas where resources like gold exist in the rock formation aren't considered for the underground storage site.
"Usually the geology of mines is not suitable because you have fractures. Minerals form where you have fractures and flowing water," he said, adding they don't want future generations to inadvertently disturb the underground storage facility while exploring for resources.
As a result of the salt deposits that extend under Central Huron's land, if it moves forward as a potential site, geologists will need to investigate further.
The closest fault to the municipality is about 30 km away, and the bedrock is predictable, Leech said.
"This is one of the most stable areas in North America," he said. To read his PowerPoint presentation to council, please visit Central Huron presentation_website
After the public meetings, the municipality will be asked to decide whether it wants to move forward in the site selection process.
"The ball is in your court. There's not a lot of pressure on you," said Michael Krizanc, who is communications manager of NWMO, asking council for a response within the next few months.
Step 3 is a preliminary assessment, in part, of whether a safe site can be found, whether it can benefit the community, and whether there is potential for the community to continue its interest to explore the project.
From the more than 20 candidate sites, one or two will be selected for an in-depth five-year study. The community, including both the potential host municipality and surrounding area, will be consulted to see if it's willing to host the facility.
The final site selection could take seven to 10 years. It could be decades before any spent nuclear cells are shipped to a new underground facility.
In Canada, there are about two million used fuel bundles in storage, which would be moved to the central underground storage facility.
NWMO is funded by Ontario Power Generation, NB Power, Hydro-Québec and Atomic Energy of Canada Limited.