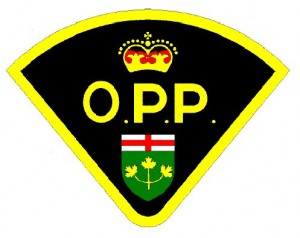 HURON EAST – Huron OPP officers are investigating the theft of a 24-foot black Great Lakes enclosed cargo trailer stolen from a Maple Line address.
The owner of the trailer had been away for a week and returned to the construction site on Feb. 4, 2013 to discover it had been stolen.
The trailer also contained about $5,000 in miscellaneous tools.  The trailer itself is valued at $10,000.
Anyone with information regarding this incident is asked to contact the Huron OPP at 1-888-310-1122 or (519) 524-8314
Should you wish to remain anonymous, you may call Crime Stoppers at 1-800-222-TIPS (8477), where you may be eligible to receive a cash reward of up to $2,000.
SCAM DETECTED BY CITIZEN
GODERICH – Huron County OPP received a report this week regarding another online scam.
A Goderich resident reported he was selling his pickup truck on Kijiji, a popular online website.  He was contacted by two scammers via text messages and both of them wanted to immediately purchase his vehicle without inspecting it. The seller became suspicious after learning the purchasers lived out of province and both supposedly didn't have the time to talk over the phone. Some red flags the seller correctly identified as scam warning signs were:
The buyers wanted the vehicle immediately;
The buyers lived far away and had no problem paying for shipping expenses;
The buyers were willing to pay full asking price;
The buyers were willing to purchase without inspecting first;
The buyers were too busy to talk over the phone and would only communicate via text message and email; and
The buyers were going to pay for the vehicle via PayPal.
The scammers will often provide some elaborate tale as to why they can't communicate over the phone.  They will send you communication through text messages or email advising you the funds will be transferred to your PayPal account.  PayPal is a secure method of transferring money however the scammers take advantage of this and create fake PayPal correspondence.  If you don't have a PayPal account they will instruct you to open an account and will provide you with a link to do so.  This link will undoubtedly take you to a "spoofed" PayPal site.  The scammers will also provide you with genuine looking email receipts advising the funds have been transferred into your PayPal account when in fact there has been no such transfer.  In addition scammers will often try to create a sense of urgency and will report that there has been a problem with the transaction.  They then request funds to be wired to cover unexpected fees.
If you send the money, you have been scammed.  If you ship your item before verifying the funds in your account you have been scammed.  Don't become a victim.  It is always best to make transactions face to face.  If this is not possible, do your due diligence and protect yourself.  Never wire money to people you don't know.  And most of all, remember if it's too good to be true, it likely is.