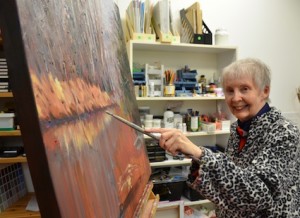 EXETER – Goderich artist Madeline Roske, well known for oil paintings in bold strokes and vibrant colours, has been named feature artist for this year's Conservation Dinner.
"We are very honoured to have someone of Madeleine's talent bring her skills for this year's event," said Bob Laye, who is chair of the Conservation Dinner Committee.
Roske has five paintings in the permanent collection of the Huron County Art Bank, a collection of 36 contemporary works by county artists that depict Huron County.
Each year the Conservation Dinner selects an artist to create the feature art as one of the highlights of the live auction portion of the evening.
Roske said it was a "pleasant surprise" and honour to be announced as the 2013 Feature Artist.
"I do care about the earth, and the air and the water, and I think to be associated with the Conservation Dinner is really a good fit," she said.
Roske was born in Wales and lived in several places in her youth, including stints in Scotland and Montreal, Quebec. She came to Ontario, with her family, as a teenager.
She has enjoyed visual arts her whole life but her painting began to flourish after she became a member of the Goderich Art Club in 1985. She later began to develop her lifelong interest in art as she attended classes at the Southampton School of Art during several summers. The former public health nurse gained a whole new vision of what art can be when she started a two-year art therapy program at the University of Western Ontario in 1989. She saw performance art and the work of new artists with a "totally different view of art" and it expanded her vision of what visual arts could say. Painting has given her a way to "express the joy I feel in nature and my responsiveness to the natural world," she said.
Painting requires skills and technique but Roske said "there is a part that comes from inside" and the art that people love exhibits "an intangible quality." She paints with the desire to combine the technical proficiency with the emotional impact that resonates with the viewer. Some art inspires appreciation for the artist's technical skills, Roske said, and some art (like the work of Rembrandt, for example) can "bring you to tears." The viewer's relationship with her paintings is not just what they see, but also what they feel when they see her work and the personal relationship they have with the painting's story.
Her main artistic medium is oil painting although she has also painted with watercolours and acrylics. Roske finds rich colours even in "the between seasons." Her themes are diverse but she draws inspiration from the natural surroundings of Huron County, which she has called home since she moved to Goderich in 1976.
"Huron County provides an inexhaustible source of material and it is my privilege to record it," she said. Her artistic inspiration often happens when something "catches her eye" in her environment, whether it be some flowers, the back of a building, beach scenes, cows in a pastoral setting, or a farmer's market.
Roske's paintings can be found throughout Canada and farther afield, including international destinations such as the United States, Hong Kong, and Germany. Her work can be seen at Goderich Co-op Gallery and Artworks etc. in London. For more information on the work of artist Madeleine Roske visit mroske.com
The Conservation Dinner is organized each year by the Exeter Lions Club, Ausable Bayfield Conservation Foundation, and other community members on the dinner committee. The support of businesses, donors, patrons, volunteers, and artists has helped the annual event raise more than $600,000 for local improvements in the event's history spanning almost two and a half decades. The Conservation Dinner supports accessible trails for environmental health and human health, conservation education and recreation opportunities for young people and the young-at-heart, and commemorative woods that improve forest conditions and remember loved ones, among other important local conservation work that could not happen without this kind of public generosity.
The 24th Annual Conservation Dinner takes place Thursday, April 18, 2013 at South Huron Recreation Centre in Exeter. To purchase a ticket or to donate to the charity gala, please phone 519-235-2610 or 1-888-286-2610, visit conservationdinner.com, or e-mail info@abca.on.ca. Tickets, $60, include a $30 charitable gift receipt for income tax purposes. The volunteer committee welcomes financial support as well as donations of art, sports and entertainment memorabilia, crafts and furniture, travel packages, jewelry, and other items.
The Conservation Dinner Committee has selected the Early Bird Draw prize print for 2013. The limited-edition print is by popular artist Elisabeth Tonner-Keats and the print is called Midday Pause. It is number 168 of 475. Organizers say the chance to win this beautiful print is an extra incentive to buy a ticket early for the gala dinner and auction. People who purchase their ticket by Feb. 22 will have a chance to have their name selected, in a draw, to win the print. The draw for the print will take place on Monday, Feb. 25.
The Conservation Dinner Committee will have a big job to do this year trying to match the previous year's record-breaking total. The 2012 dinner raised $53,664 in net proceeds for accessible trails, conservation education, conservation recreation opportunities for youth, stocking of fish in the Morrison Reservoir for an annual family-friendly fishing derby, commemorative woods, and more.