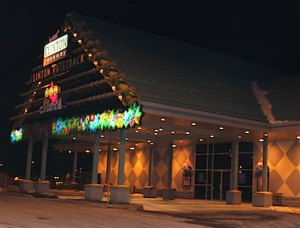 Bullet News CENTRAL HURON – The Ontario Lottery Corporation (OLG) has struck lease agreements in principle with eight racetracks, including Clinton Raceway, it announced today.
OLG has provided the site holders with a Letter of Intent, which sets out the general terms, subject to approvals, between the site and OLG.
Clinton Raceway built the $3-million slot facility on Beech Street in Clinton to the province's specifications in an arrangement that saw 20 per cent of revenue split between raceway operators and horse people's purse accounts. However, the new lease agreement will look much different than the "partnership" that was previously in place, said Morag Watt, raceway chair.
"This is an entirely different lease with entirely different terms and parameters. This is strictly a lease of the facilities whereas before we were partners in business," Watt said. "I would like to tell you that it would see the same amount of money come to Clinton as the old agreement but it will not. However, we feel that it is a fair agreement and we feel that we could at least would let the slots stay at Clinton."
The lease agreement in principle was signed at 8 a.m. today, said Ian Fleming, who is the manager of Clinton Raceway. He said while the revenue received is less "it's enough to keep racing going and a lot of people employed in Clinton."
He is relieved the agreement in principle is inked before the slots at racetracks program ends March 31, 2013.
"We're glad to have something signed up. April 1st is fast approaching and we certainly wanted to have the place operating April 1st," he said.
OLG expects to finalize agreements with site holders by Feb. 28, 2013. It plans to announce more agreements in priniciple in the coming weeks.
At the same time the OLG made it's announcement, the province issued a press release that it has reached an agreement in principle to provide transition funding to the province's largest horse racing venue.
The agreement with Woodbine Entertainment Group keeps the tracks open at the Woodbine and Mohawk as the industry adapts to a more sustainable model. Agreements with additional racetracks are expected to be hammered out in the coming weeks.
"This agreement points to a renewed future for horse racing in Ontario. We look forward to working with additional racetracks towards the further development of a new model for a sustainable industry,"
 said Ted McMeekin, Minister of Agriculture, Food and Rural Affairs.
In order to receive transition funding, racetracks will have to meet accountability and transparency requirements. Providing a number of racetracks with transition funding is part of the government's horse racing industry transition plan, which includes:
Continuing the Ontario Racing Commission's (ORC) Horse Improvement Program, which provides horse people with racing and breeding incentive;
Providing animal welfare supports; and
Transferring responsibility for the ORC to the Ontario Ministry of Agriculture, Food and Rural Affairs.
The opposition New Democrats wrestled $50 million in transitional funds from the Liberal government in exchange for not voting against the 2012 budget and thereby keeping the minority government alive. In October, the transition panel appointed by the province concluded the horse racing industry needs provincial funding to remain viable. It will require less than the $345 million yearly it received under the Slots at Raceways program, the panel said, but exactly how much money the horse racing industry will need won't be made public until negotiations between the province and the horse racing industry are complete.
In mid-May, OLG outlined a plan to carve the province into 29 gaming zones in which single, privately run facilities could operate. Clinton would be part of what's referred to as Southwestern Zone Five. Unlike some zones, there is just a single slots facility already operating in the zone. However, up to 300 slot machines and an as-yet undetermined number of table games will be allowed in this area, which currently has just over 100 slot machines.
Fleming said the agreement in principle includes provisions to allow for an expansion of the Clinton site.
"They could expand if they thought the market was there," he said. The OLG has not issued requests for proposals from private operators to run the sites, although it announced last year that the operators would be selected in 2013.
Clinton Raceway, which has operated for 42 years, employs 70 people at the height of racing season, and has 32 horse people. It has received approval for 19 race dates in the 2013 season, which is the same as 2012.