Quinn Ross is one of eight lawyers at The Ross Firm. Quinn practises in the areas of real estate, corporate/commercial law and estate law. He also has broad experience in criminal, administrative and civil litigation where he has appeared before the Ontario Court of Justice, the Ontario Superior Court of Justice, the Divisional Court of Ontario, the Court of Appeal for Ontario and various administrative tribunals.
***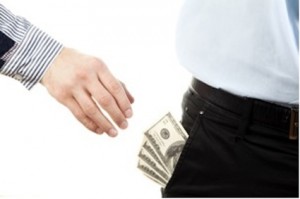 Michael Proulx had an exotic job with a Canadian mining company, Sahelian Goldfield Inc.  If the name of the mining company doesn't mean anything to you, don't feel badly . . . they went bankrupt.
Because the company's mine was located out of Canada, part of Michael's pay package included return airfare to Burkina Faso (formerly Upper Volta), a landlocked country in West Africa.
In addition, Michael's employment contract included provision for payment of expenses ". . . required to travel to various destinations in North America, Europe and Africa in furtherance of our business."
When the company went under, there was no argument that the directors of the company had to reach into their own pockets and come up with the money ($83,527.47) to pay their employees for up to six months' wages owed to them.  There was no argument because The Ontario Business Corporations Act (OBCA) makes directors of Ontario companies personally liable . . . ouch!
Michael Proulx and a group of other employees of the bankrupt mining company also wanted the directors to reimburse them for their reasonable travel and out-of-pocket expenses incurred while they were on company business.  After all, the employment agreement did say they were to be reimbursed for those expenses as well.  The unpaid expenses to all the employees totalled $60,556.86.
You can imagine how the four directors of the bankrupt company felt.  First they had to shell out $83,527.47 for wages. That they could accept . . . would have to accept . . . because the act required them to pay.  But expenses?  Expenses are not wages; and the company had gone bankrupt . . . at least that's what the lawyers for the corporate directors argued before the Ontario Court of Appeal.
The Court of Appeal thought differently.  (If you happen to be a director of a corporation, you hate when that happens).
The court referred to the relevant section of OBCA.  That section specifically says that corporate directors are personally responsible ". . . for services performed for the corporation and for vacation pay.  . ." for up to six months.
In the end the four directors were ordered to personally pay $83,527.47 for wages, plus $60,556.86 for unpaid expenses.  Total?  $144,084.33.
Lessons to be learned?
1)    If you become a director of a company, make sure you know what is going on in the company; otherwise you could find yourself liable for some big bucks.
2)    If you are an employee owed money by a corporation that goes belly up, you can go after the directors personally for an amount equal to six months wages.