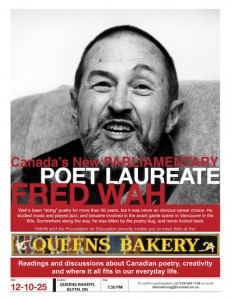 BLYTH – This nation's official poet who writes poetry for Parliament is coming to Blyth on Thursday.
Canada's fifth Parliamentary Poet Laureate, Fred Wah, brings his innovative and collaborative literary style to the national task of drawing Canadians' attention to the reading and writing of poetry.
"My work as Parliamentary Poet Laureate will continue to engage poetry as it represents our homes and migrations, our questions of history and identity," he said.
Wah, who is also professor emeritus at the University of Calgary, has been writing and publishing since 1965.
The son of parents who ran a series of Chinese-Canadian cafés in the West Kootenays of B.C., his early poetry is improvisational and experimental, based partly on his interest in jazz, but was also rooted in the geography of the Nelson area. By the '80s, he was explored his mixed-race heritage, with writings that included the publication of Diamond Grill (1996), a biofiction based on his experiences working in his father's café.
His recent publications include two collections of poetry, Sentenced to Light (2008) and is a door (2009). A selected poetry edited by Louis Cabri, The False Laws of Narrative, was published in 2009 by Wilfrid Laurier University's poetry monograph series.
Wah has received major literary awards in three genres: Waiting for Saskatchewan won the Governor General's award, So Far won Alberta's Stephanson Award, and is a door won the Dorothy Livesay prize for poetry; Diamond Grill received Alberta's Howard O'Hagan Award for short fiction; and his essay collection, Faking It: Poetics and Hybridity won the Gabrielle Roy Prize for Literary Criticism in English Canada.
This event is being supported by Huron Arts & Heritage Network and the Avon Maitland Foundation for the Enrichment of Education.  Through this partnership, Wah will visit secondary school classes as well as offer presentations to audiences interested in developing their poetry skills, and hearing one of Canada's foremost contemporary poets.
Poetry and Poems for Canadians Today, with Canada's Poet Laureate Fred Wah, will take place at Queen's Bakery, downtown Blyth, on Thursday, Oct. 25, starting at 7:30 p.m. The public is invited to this reading and discussion about Canadian poetry, creativity and where it all fits in everyday life.
To confirm your participation, please call 519-524 1156 or email: dlarmstrong@hurontel.on.ca