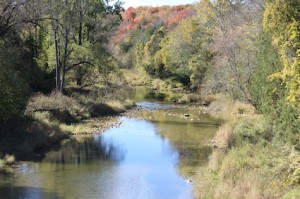 SOUTH HURON - Residents in the Ausable Bayfield watershed are being asked to curb their water use by 20 per cent, as the conservation authority's water response team continues a Level 2 low water advisory.
Although record-low stream flows reflect a more serious Level 3 low water advisory conditions that could mean water restrictions, the WRT at the Ausable Bayfield Conservation Authority has decided to keep the watershed at a Level 2 condition. It cited stream flows that are well below 30 per cent of the lowest summer monthly average, the target indicator for a Level 3 condition.
However, since water users are no longer irrigating crops, demand is down so issuing a Level 3 advisory would not have a lot of effect,
said Davin Heinbuck, who is a lands and water technologist at the ABCA. He said going to a Level 3 requires making a recommendation to the Ontario water directors' committee, which is comprised of directors from numerous provincial ministries, and requires a socio-economic analysis. A Level 3 has never been issued in the province.
Despite some improvements in rainfall amounts through September and a decrease in water demand, stream flows continue to range from very low to dry. It is anticipated that as autumn progresses, and with a return to wetter weather, a larger percentage of that rainfall should become available to area streams and the groundwater supply.
The combination of reduced crop cover and natural vegetation, that is typical of the autumn period, entering into a dormancy cycle of slow growth, results in more water infiltration and runoff to local streams. Infiltration is important for replenishing the shallow groundwater supplies that have declined steadily through the summer.  Groundwater levels typically increase through the autumn and into winter.
Mike Tam, who is chair of the water response team, said that stream flows are still very low despite some recent improvements in precipitation and "we are still asking water users to voluntarily reduce the amount of water they use by at least 20 per cent."
Heinbuck said if conditions persist, the team may consider continuing the Level 2 or downgrading to a Level 1 low-water advisory through the winter to put the land in a better position in the spring. Conditions are reviewed monthly.
There are three levels of low-water advisories. Level 1, the least serious, asks water users to voluntarily reduce use by 10 per cent. Level 2 is more serious and asks for an additional 10 per cent voluntarily water use reduction for a total of 20 per cent. A Level 3 low-water advisory would be the most serious and could include mandatory water use restrictions for holders of permits-to-take-water.
The WRT was formed in 2001 in response to the low-water conditions that year and the team has been active ever since. The WRT includes representatives of major water users such as aggregate industries, agriculture and vegetable growers, and golf and recreation and includes local municipal representatives and staff of provincial departments such as Natural Resources, Agriculture, Food and Rural Affairs, and Environment.
Visit online for further resources on the Ontario low water response program or ABCA website at abca.on.ca and view the dynamic low-water advisory tool that alerts people to low-water advisories in effect in the watershed.