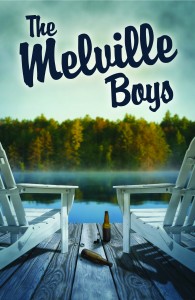 Jennifer Cox is a communications graduate from the University of Windsor who is now a computer trainer for the Avon Maitland District School Board. She lives in Clinton with her husband and two children. She writes when she can find the time. This summer, she is reviewing Huron Country Playhouse and The Blyth Festival for Bullet News Huron.
***
The Melville Boys, a comedy by Norm Foster, directed by Chris McHarge, opened last night on the Playhouse II stage at the Huron Country Playhouse in Grand Bend. It is a comedy surrounding two brothers on a weekend cottage getaway who meet up with two sisters. Each pair of siblings could not be more unlike in personalities. Owen Melville, played by Brad Austin, is young, brash, spontaneous and three weeks shy of becoming a husband. His older brother Lee, played by Richard Quesnel, is a married father of two, conservative, careful and moody, understandably though. The weekend away is intended to be bonding time for the brothers as Lee has been told he has limited time left to live. Until this weekend, Owen has refused to acknowledge what is happening to his brother.
The brothers are expecting a quiet couple of days fishing and reminiscing until Owen spots a boat on the lake containing two women. The two women are sisters, Mary and Loretta, and are also as different from each other as night and day. Loretta is wild, carefree and outspoken. Mary, the older sister, played by Anita La Selva, is straight, reserved and calm. Loretta, played by Shauna Black, is the younger more outgoing sister and the match to Owen. Much to the dismay of Lee, the brothers end up going on a "date" with the sisters to the local legion dinner and dance. After the night out, we learn more about the individual struggles each sibling is facing in life and what they plan to do about it – or not do about it.
I was interested to meet these brothers and sisters. It seemed like an intriguing plot with lots of opportunity for conflict and humour given the opposing personalities on stage.
I did enjoy some of the humour. There were some great one-liners from Brad Austin as the goofy, playful younger brother, Owen. He sees the women in the boat through his binoculars and proclaims that they are "filled with lust" – for him, of course. And, clearly Lee's vision of a quiet, solemn weekend with his brother has gone out the window. A scene where Lee discovers that Owen, in charge of the food for the weekend, has provided nothing but chips, peanut butter, bread and beer got lots of laughs and helps develop the frustration between Lee and Owen. Another memorable humorous moment is Shauna Black's demo to the others of Loretta's five minutes of fame as the Price-is-Right-girl role in a TV commercial. Richard Quesnel's Lee becomes the unwilling poker face partner in her vixen-like rendition of the low budget commercial.
The few musical interludes were appropriate with classic songs such as Trooper's We're Here for a Good Time and The Eagles' Heartache Tonight. I still felt like something was missing throughout most of the play and I finally realized during the last act what it was. There was never any background sound, like waves rolling in the lake, a boat motor, oars paddling, or birds calling or crickets or something. At a cottage especially it would seem fitting to have nature and water sounds somewhere in the play to add to the environment.
There are some humorous lines and moments that the cast seemed in synch on stage but there were times the play lost me and I was not fully engaged in their stories. Each of the people in the play is searching for something, and this is what seems to bring them together. Lee is obviously distraught over his diagnosis and is concerned that his brother is not going to be there for his family when he's gone. Owen is not able to accept that his brother only has a year to live and he is also unsure of his fiance and upcoming wedding. Owen becomes infatuated with Loretta, the vivacious small time actress with big dreams. Lee, trying to make sense of dying, is left to chat with Mary who is still holding out for a husband that up and left her without a word two years ago. These stories have so much opportunity for expression and drawing the audience in and there were moments that I really cared what happened to the siblings. I enjoyed Shauna Black as Loretta who was most convincing as the small town hopeful actress, ditzy but wise in her own way.
I was entertained, I laughed, and I enjoyed the ambience of the Huron Country Playhouse and after this play gets a few more showings under its belt I think it will be even more entertaining and genuine. The Melville Boys runs until Aug. 11 at Playhouse II. Tickets are available for purchase at the Huron Country Playhouse box office or by calling 519-238-6000 or toll free at 1-855-372-9866. Tickets may also be ordered online.